Mande Studies: The Journal of the Mande Studies Association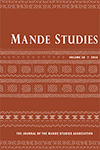 Mande Studies (ISSN 1536-5506, E-ISSN 2379-5506) is published annually by Indiana University Press on behalf of its sponsor, the Mande Studies Association.
http://www.jstor.org/journal/mandestudies
SUBSCRIPTION RATES
Individuals: $20 (print), $18.50 (electronic), $25 (print and electronic – included in all membership categories but the "student without journal" option).
Institutions: $45 (print), $50 (electronic), $55 (print and electronic) Foreign postage: add $8/year (airmail)
ORDERING INFORMATION
For non-members, order subscriptions or single issues online from JSTOR at http://www.jstor.org/r/iupress or call 1-888-388-3574 (individuals) or 1-877-786-7575 (institutions). Print single issues, back issues, and bulk orders may be ordered directly from Indiana University Press by phone at 1-800-842-6796/1-812-855-8817; by fax at 1-812-855-7931; or by email at iuporder@indiana .edu. Please notify Indiana University Press of any change of postal or email address. Print issues missed because of outdated addresses will not be replaced free of charge.
Editor
Editorial Board
Stephen Belcher
Alicia Bellagamba
David Conrad
Drissa Diakite
Mamadou Diawara
Odile Georg
Alma Gottlieb
Walter Hawthorne
José da Silva Horta
Lansine Kaba
Martin Klein
Christoph Kohl
Robert Launay
Wilson Trajano Filho
SUBMISSION INFORMATION
Authors may view the journal's style guide and submission information here: https://scholarworks.iu.edu/iupjournals/index.php/mandestudies/about/submissions#onlineSubmissions.
Inquiries concerning manuscript submission should be directed to the editor at pmark@wesleyan.edu.